In an earlier post about our garden, I said that I would put recipes in an upcoming post. Well, I've kept my promise . . .
Pesto
Simple to make (no cooking, except for the pasta), and loaded with the great taste of basil.
1-1/2 c. basil

2 cloves garlic (more, if you're a garlic fiend like me)

1/4 c. pine nuts (or walnuts)

3/4 c. Romano cheese

3/4 c. olive oil
In food processor, blend together basil, garlic and pine nuts. Add cheese till mixture is really thick. With processor running, add olive oil in a slow, steady stream until desired thickness is reached. Serve over pasta.
*****
Lemon Raspberry Tart
This recipe is amazing with just-picked raspberries, but frozen can be used as well.
Crust:
1-1/2 c. confectioner's sugar

9 tbl. butter (cold)

1-3/4 c. sifted flour

1 egg

pinch salt
Preheat oven to 350 degrees. In food processor, mix sugar, butter, salt & flour till it looks granular. Add egg and process to form ball. Chill 30 min. Roll out dough, place in 10" tart pan, bake with beans as weight for 15 min. (Note: I put a sheet of parchment paper on top of the dough before placing the beans there. If you don't do this you'll have a heck of a time trying to pick beans out of the puffed pastry!)
Filling:
1-1/2 lemons (grate peel and save)

8-9 tbl. sugar

3/4 c. cream

2 whole eggs + one yolk

Rasperberries to cover tart
Preheat oven to 325 degrees. Grate lemon zest, then remove skin from lemons. Put lemons in processor with sugar, eggs and cream and process till smooth. Put zest in bowl. Strain mixture and add to zest. Place berries in pan with crust. Cover with 3/4 of the cream mixture. Bake 1/2 hr. Add rest of cream mixture and bake another 1/2 hr. Sprinkle with confectioner's sugar before serving.
*****
Swiss Chard Ravioli
The process is a bit involved, but I save steps by using wonton wrappers instead of making my own pasta. Well worth the effort!
1/4 cup water

1 pound Swiss chard, center spine and stems trimmed

1 cup ricotta cheese

1/3 cup freshly grated Parmesan cheese

1 large egg

1 garlic clove, minced

1 teaspoon chopped fresh thyme

3/4 teaspoon salt

1/2 teaspoon chopped fresh rosemary

1/4 teaspoon ground black pepper
wonton wrappers

1 lg. egg white, beaten to blend
3/4 c. (1-1/2 sticks) butter

1/4 c. chopped sage
Bring 1/4 cup water to boil in large pot. Add chard leaves. Cover; cook until tender but still bright green, stirring occasionally, about 3 minutes. Drain. Cool slightly. Squeeze dry. Chop chard finely. Transfer to large bowl. Mix in ricotta, 1/3 cup Parmesan cheese, egg, garlic, thyme, salt, rosemary and pepper.
Line baking sheet with foil or plastic wrap; sprinkle with flour. Place 1 gyoza wrapper on work surface. Brush surface of wrapper with some egg white. Spoon generous 1 teaspoon chard mixture into center of wrapper. Top with another wrapper. Press edges together to seal. Transfer to baking sheet. Repeat with remaining wrappers, egg white and chard mixture to make 32 ravioli total. (Can be made 8 hours ahead. Cover and chill.)
Melt butter in heavy small skillet over medium heat. Add sage; stir 1 minute. Season with salt and pepper. Remove from heat.
Working in batches, cook ravioli in large pot of boiling salted water until just tender, stirring occasionally, about 4 minutes per batch. Transfer ravioli to
Pour sage butter over ravioli and toss. Serve with additional Romano cheese.
*****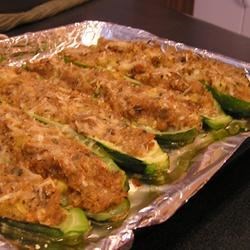 Baked Stuffed Zucchini
These puff up as they bake. They are SOOOO good!
1 1/2 pounds zucchini, halved

1 1/2 cups dry bread crumbs

2 ounces shredded Romano cheese

1/4 cup minced onion

2 tablespoons chopped fresh parsley

1 1/4 teaspoons salt

1/4 cup grated Parmesan cheese, divided

2 eggs, beaten

2 tablespoons butter, diced
Preheat oven to 350 degrees F (175 degrees C).
Scoop the flesh out of the zucchini and place in bowl. Set shells aside. Combine zucchini flesh with
bread crumbs, Romano cheese, onion, parsley, salt, most of the Parmesan cheese and egg. Fill zucchini shells with mixture. Dot tops with butter and sprinkle with remaining Romano cheese.
Bake in preheated oven for 30 minutes.
*****
Yellow Tomato Soup
This soup is beautiful, with flavor to match.
1 large onion, chopped (about 2 1/2 cup

6 bacon slices (about 5 ounces), chopped

5 cups chopped yellow tomatoes (about 2 pounds)

2 garlic cloves, minced

1/2 cup dry Sherry

1/2 cup dry white wine

4 cups chicken stock or canned low-salt chicken broth

2 teaspoons minced canned chipotle chilies*

1 tablespoon fresh chopped oregano leaves

1/4 cup 2% evaporated milk
Sauté onion and bacon in heavy large pot over medium heat until onion is tender and beginning to brown, about 15 minutes.
Add tomatoes and garlic and simmer until tomatoes are tender and juicy, stirring occasionally, about 20 minutes. Add Sherry and wine, and let simmer for five minutes.
Add stock and simmer until mixture is reduced to 6 1/2 cups, at least 15 minutes. Stir in chipotle chilies and oregano. Working in batches, puree soup in blender. (Skip this step if you have an immersion blender, in which case you can blend it right in the pot.) Return to pot. Add evaporated milk and stir until heated throughout. Season to taste with salt and pepper.
*****
I will post more recipes soon, including one for an aromatic Moroccan Lamb Stew. Enjoy!